"We need this training in the border area. The situation is intense there."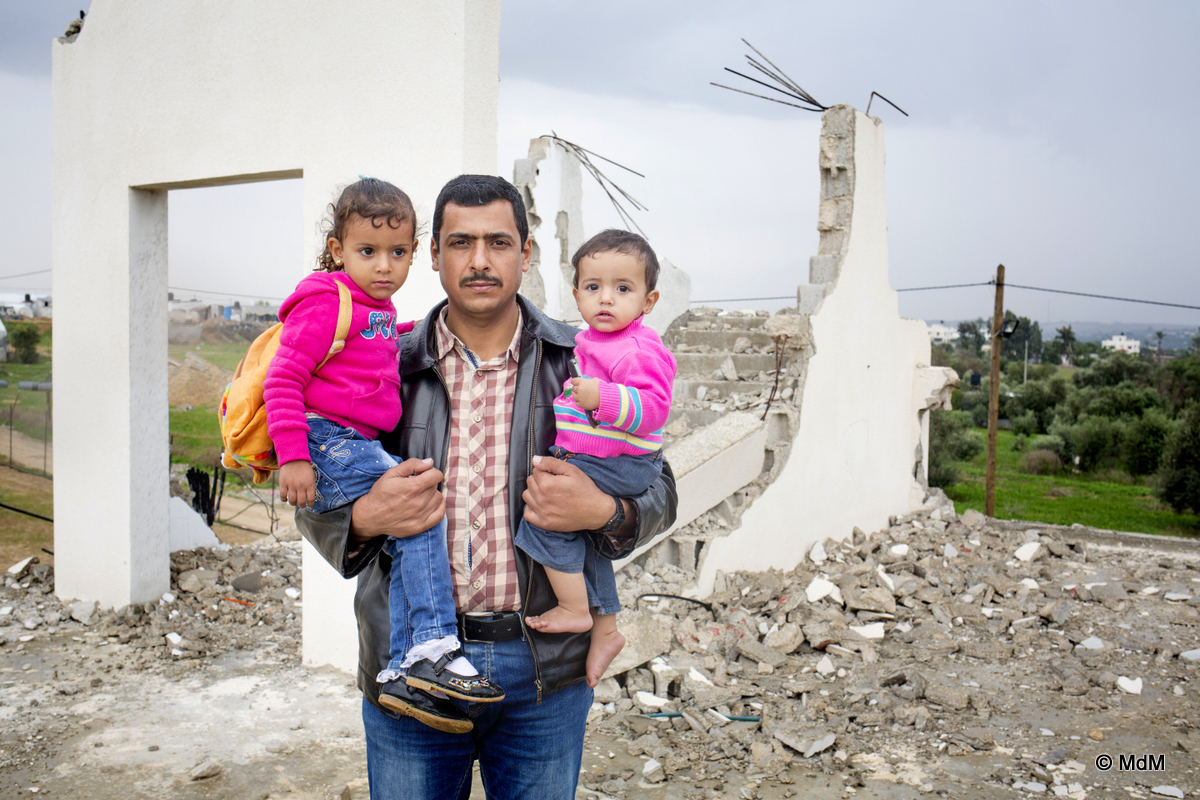 MdM first-aid emergency training: news from Gaza
Mustafa Abu Hjier is 38 years old. He is the Executive director of a Youth Development center in Juhor ad Dik, a village in the central area of Gaza, near the border with Israel. He is married with two children. Beginning of 2014, he received a 2 weeks training by Médecins du Monde France (MdM), to learn how to provide basic first aid in case of emergency.
Six months later, the 2014 war started in Gaza.
"It was a week after the start of the war. I was alone at home, I had sent my wife, my child and my mother on the west of Salah Al-Din because it was too dangerous here. I stayed to protect my home, to show there was still someone there, but the situation was getting really bad, so I was preparing things to leave as well. It was in the middle of the night, around midnight… they were firing rockets all over the area, it was so intense, they were preparing the incursion on the ground, we never expected it would be so intense, the homes were attacked… And suddenly I heard my neighbors screaming, shouting for help, calling their daughter. I didn't know what happened, if they were dead, it was confusing, it was dark outside… but I remembered about the first-aid kit we had at MdM training so I just took it and ran out of the house. It was very dark, we just had a small light, we managed to reach another house, and I saw my neighbors were injured, there was blood… I had learnt I had to prioritize, take care of the most dangerous cases, and Muna[1], the daughter, had her hair burnt, her head was bleeding, so I started with her, to stop the bleeding, to try to stop the bleeding…. We had called an ambulance, but it was so difficult to reach us then, the area was not accessible… So I took the compress from the kit and started to treat the daughter myself…"
The neighbors were under shock: "I was sitting on the ground, and saw everything as in a dream. My cousin came and talked to me about calling an ambulance and I saw Mustafa dealing with my daughter" recall the father of Muna. "it was like falling, I don't know what happened. After two hours, the ambulance finally arrived. They told us we need to hurry, it's not an accessible area, we can't stay here"
They were all taken to the hospital. Muna had two operations, she is now fine. If MdM first aid trainings are meant to be used in normal situations, they allowed Mustafa to know how to react when facing this critical event and to have access to an emergency kit to treat his injured neighbor.
Today, Mustafa lives in a caravan. His house, all his neighborhood, were completely destroyed. The primary health care center (PHCC) were also damaged. MdM provided a mobile clinic for 4 months, other organizations later came and supported the village but the houses have still not been rebuilt.
"The ambulances still take time to come here, it is useful that we know about first aid ourselves. We need this training in the border area. The situation is intense there." concludes Mustafa.
 Context:
®     Gazans have faced 3 wars in 6 years and 8 years of blockade
®     The 2014 war caused the death of 2 251 Palestinians, around whom 70% were civilians, 551 children.
®     11 000 Palestinians were injured, 500 000 displaced at the height of the conflict.
®     Today, around 110 000 are still homeless.
®     Gazan health infrastructures had to respond to this situation of crisis while they were also targeted: 17 hospitals and 58 health centers have been damaged.
®     Since 2014, MdM provides first aid trainings in the border area of Gaza, an area that is intensively targeted during the wars, and faces daily risks of shooting by Israeli security forces along the border fence or at sea.
®     To this date, 420 person benefitted from MdM emergency training, including 214 women
---
[1] For confidentiality reasons, the name has been changed