Context
The magnitude, duration and complexity of the conflict has had far reaching effects on the health situation in Syria. More than 13.2 million people are in need of immediate medical assistance across the country, according to the United Nations Office for the Coordination of Humanitarian Affairs (Humanitarian Needs Overview 2018).
Health infrastructures have been put under tremendous strain with access to and availability of health services further compromised by insecurity, mass displacement of population as well as targeted attacks on health facilities and critical infrastructure on which health services depend.
Critical shortages of medical staff, equipment and supplies are severely impeding the delivery of the essential medical assistance. Furthermore, the lack of sustained and predictable access to UN-declared besieged and hard-to-reach areas continues to exacerbate health needs in these areas.
Access to comprehensive Primary Health Care
Syria is facing a critical lack of access to quality Primary Health Care – including Sexual and Reproductive Health and Mental Health services – especially for groups with specific health needs: forcibly displaced populations, children under 5, pregnant and lactating women, people suffering from chronic disease, disabled people and elderly.
The country's health system has been severely disrupted since the beginning of the conflict, leaving less than half of health facilities fully operational in 2017 and resulting in thousands of avoidable deaths from injuries or illnesses.
At least one in five suffers from mild to moderate mental health conditions such as depression or anxiety disorders
Conflict-affected population across the country, especially those forcibly displaced, continue to struggle to access life-saving medicines and regular treatment for noncommunicable diseases such as diabetes, hypertension and other chronic conditions. According to WHO, noncommunicable diseases were responsible for almost half of all deaths in Syria in 2017, exceeding the number of deaths caused as a direct result of war-related trauma injuries (WHO. Beyond the bullets and bombs: Saving the lives of chronic disease patients living in conflict settings. 23 November 2017. Website, retrieved on February 18, 2018.).
Mental health
Prolonged exposure to conflict, stress and uncertainty have had a clear and devastating impact on the psychological wellbeing of conflict-affected Syrians, especially children (Save the Children. Invisible Wounds. The impact of six years of war on the mental health of Syria's children. 2017. URL: Link, retrieved on February 18, 2018.). WHO estimates that one in thirty people living in Syria today suffers from severe mental health conditions and at least one in five suffers from mild to moderate mental health conditions such as depression or anxiety disorders (Humanitarian Needs Overview 2018). Additional support is urgently needed to address increasing mental health needs inside the country, where there is a critical shortage of mental health and psychosocial professionals.
Violence against health infrastructures, health staff and patients
Seven years into the conflict, medical facilities, health staff and patients continue to be victims of targeted attacks.
In 2018, Syria was said to be the most dangerous country in the world to be a health worker. Health professionals are working in extremely difficult conditions, putting their lives on the line to save others.
The continued damage and destruction of health infrastructure is putting existing health facilities under yet additional strain, limiting the ability of people to access sufficient medical assistance and critically affecting readiness of remaining facilities and availability of staff to provide services.
Locations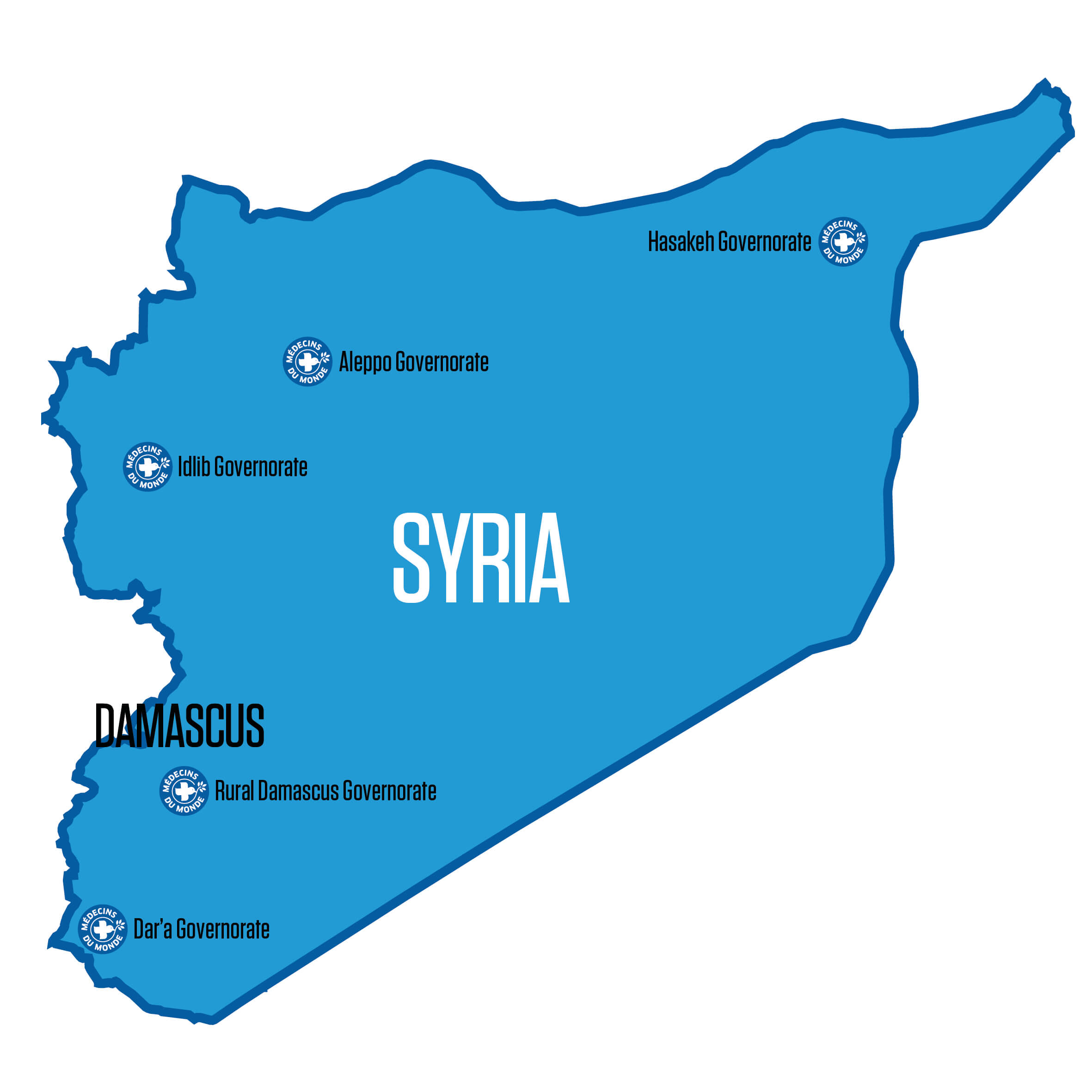 Our response
MdM has been providing health services through partners in Syria since 2008, and scaled up activities following the outbreak of the conflict in 2012.
Today, MdM is responding to the immediate health needs of more than 500,000 conflict-affected individuals, while engaging in durable solutions to support the   strengthening of the health system in collaboration with local health actors. In 2018, MdM supported the provision of around 624,483 consultations.

©AFP
Alongside our partners, MdM is tackling the critical issue of access to health services and continuity of care by securing financial means to ensure health services are maintained, by addressing the shortage of life-saving medicines and essential medical supplies, by supporting rehabilitation of damaged health infrastructures and by providing incentives and specialized trainings to more than a hundred health professionals inside Syria.
In 2018, MdM is ensuring the provision of comprehensive primary health care services in Idlib, Aleppo, Rural Damascus, Dar'a and Hasakeh governorates, through direct service provision and by supporting local health facilities and partners. As of January 2019, MdM is supporting directly and indirectly 17 health centers and mobile teams.  
MDM is responding to the immediate health needs of more than 500,000 conflict-affected individuals
A wide range of essential services are provided to individuals with specific health needs exacerbated by the long-lasting conflict, including displaced populations and host communities:
Women of reproductive age – especially pregnant and lactating women – and children under 5 require adapted medical follow up and services, which can have severe consequences when interrupted by displacement or by limited access to specialized health services. Sexual and reproductive health is an integral component of the health care package provided facilities supported by MdM, and includes antenatal care, postnatal care and family planning services.
Displaced people – especially elderly – already suffering from chronic diseases prior to the conflict may have severe exacerbations due to the inability to access life-saving drugs or treatment. Populations living in areas where health infrastructures have been destroyed are facing similar risks. MdM is responding by expending its package of primary health care services to improve access to quality treatment of non-communicable diseases.
MdM recognizes the necessity to improve the availability of psychosocial support and mental health services in all areas of intervention. In Idlib and Hasakeh governorates, we are directly providing psychosocial services – adapting our intervention to the distinct needs of men, women, boys and girls. MdM considers mental health as an integral and inseparable part of primary health care.
Current Donors