Context
The sheer number of refugees places a huge strain on the Lebanese healthcare system. The public primary healthcare network is not fully in place and relies on an extremely expensive private sector. Despite partial subsidisation and relatively low fees, many refugees struggle to access health services. In 2018, about 73% of refugees from Syria in Lebanon did not have valid residency. Without valid residency, refugees are at risk of arrest when crossing checkpoints, which results in limitation on freedom of movement, which subsequently curtails access to healthcare assistance.
Location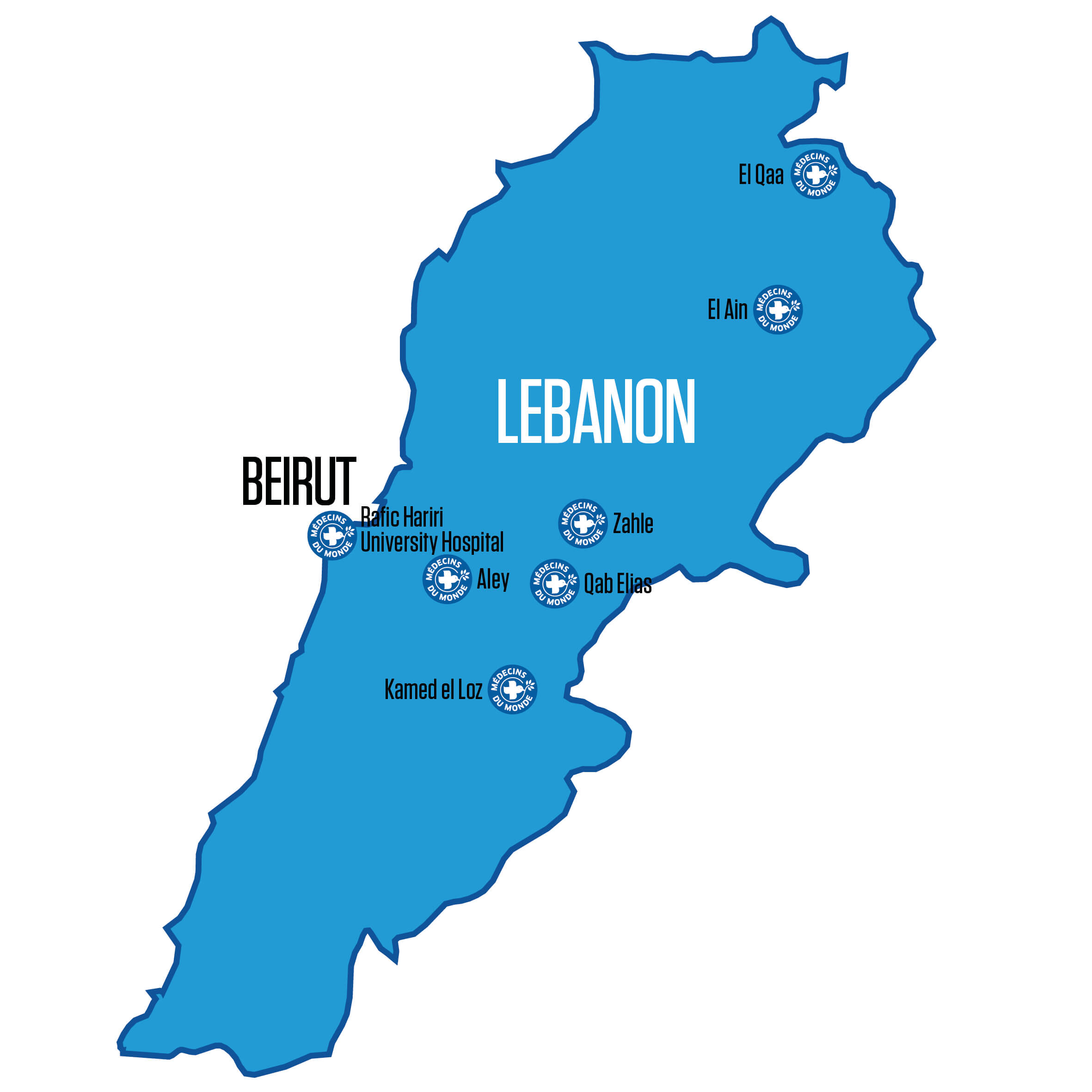 Our response
Since 2012, MdM in Lebanon, has been actively engaged in providing access to Mental Health and Psychosocial Support (MHPSS) services and reducing the impact of the Syrian crisis, on the mental and physical health of the Syrian refugees and vulnerable Lebanese. MdM intervention in Lebanon aims at strengthening the national primary healthcare system and at increasing access to quality primary healthcare. MdM works in partnership with several Lebanese organisations and collaborates with universities on specific researches.
MdM works in the Bekaa valley: in Zahle, Kamed El Loz, El Ain, El Qaa, Qab Elias. MdM also works in Beirut (Rafic Hariri University Hospital) and in Aley.
In order to strengthen the Lebanese health system, MdM supports 5 partners' primary healthcare centers (PHCCs) in their efforts to join the Ministry of Public Health national network and obtain accreditation. MdM also builds the capacity of partner staff to improve the quality of services. Services provided at the PHCCs include notably general and specialists' consultations, sexual and reproductive health services treatment for non-communicable diseases…

In addition, MdM provides beneficiaries with mental health services and psychosocial support, at the PHCCs and through outreach activities. MdM provides a comprehensive mental health case-management services through a multidisciplinary team composed of psychologists and case-managers. It includes therapeutic consultations, awareness-raising sessions on various Mental Health related topics, proper referral to specialized Mental Health services (psychotherapy, psychiatry), home-based follow-up, as well as referral to other needed basic services (cash assistance, food vouchers, shelter, education, resettlement case, etc.). MdM is also collaborating with local, regional and international academic institutions to further expand mental health research taking place in the Middle East region.
Current partners
Amel Association International
The Islamic Welfare Society
The Parish El Qaa
El Maraa El Durziya Association
Lebanon Ministry of Public Health (National Mental Health Program)
Rafic Hariri University Hospital (Beirut)
International Committee of Red Cross
Fundacion Promocion Social de la Cultura (Zahle Community Mental Health Center)
Research partners
Queen Mary University of London
American University of Beirut
John Hopkins University
IDRAAC (Institute for Development, Research, Advocacy and Applied Care)
University of Hamburg (Germany)
Current Donors