Context
The context in Palestine is marked by 50 years of protracted Occupation with a systematic denial of Human Rights, and continuing conflict punctuated by frequent outbreaks of violence, blockages and restrictions.
In the West Bank, settlement expansion, settler violence, houses' demolitions, Israeli Security Forces violence (excessive use of force and restrictions of movements and access) and the lack of a horizon for ending the Occupation are major sources of frustration and conflict. 2017 has been characterized by an increase in settlement expansion, with the approval of the construction of the first new settlement in 25 years. The accentuation of settlement construction in East Jerusalem and the increase in settler violence are encouraged by impunity linked with these violations. This constant violence is a source of anxiety and has an impact on the psychosocial wellbeing of Palestinians.
2 million Palestinians live in the Gaza Strip, one of the most densely populated territories in the world.  Nearly 11 years of blockade and recurrent outbreaks of hostilities have eroded basic infrastructure, service delivery, livelihoods and coping mechanisms. The permanent scarcity of electricity (8 hours of electricity followed by 12 hours of cut, in the best case), the shortages of drugs and disposables in the health facilities, the difficulties of entering medical equipment and materials as well as the lack of trained staff that cannot exit the Strip have an impact on the Gaza health system.
2.3 million Palestinians still need humanitarian assistance in Palestine mainly in the Gaza Strip, Area C of the West Bank and East Jerusalem.  The 50 year-Occupation, the failure of the Palestinian internal reconciliation, and the lack of vision for a political solution are the main causes of a general atmosphere of frustration and social insecurity.
Location
Gaza: North, Gaza, Middle Area, Khan Younis and Rafah Governorates
West Bank: Salfit, Qualquilia, Nablus and Tubas Governorates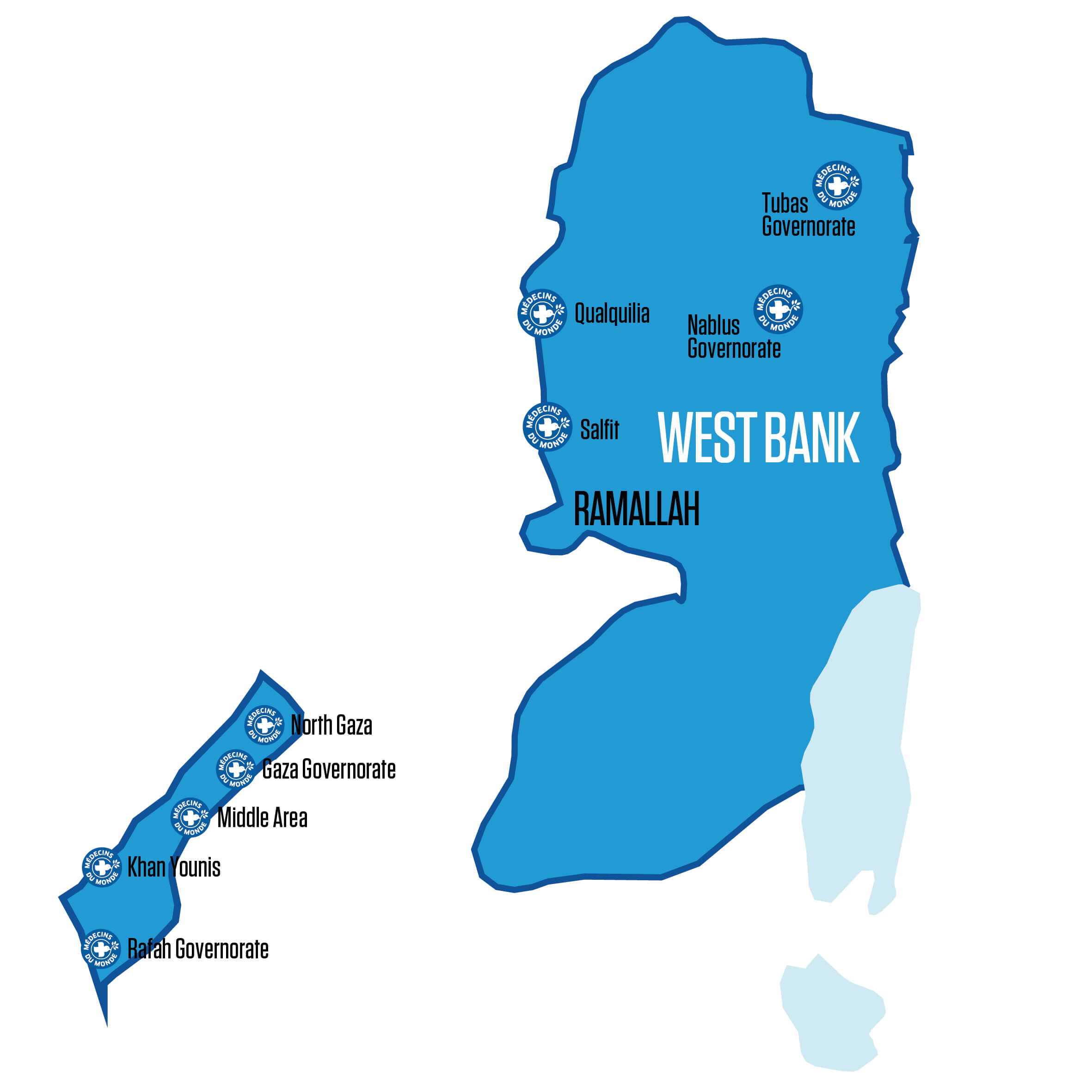 Projects
Reinforcing the access to quality medical, mental and psychosocial emergency response in Palestine
Targeted population
Gaza
Medical and non-medical staff of the ED of 6 hospitals
Community members of 20 CBOs
Staff of local MHPSS providers
Community members benefiting of MHPSS activities provided by MDM partners
Patients of the Emergency Department of the hospitals
West Bank
Direct and indirect victims of Occupation related to these violations (settler violence, Israeli army use of force, demolitions)
Community members in vulnerable communities affected by these violations
School counselors
How/Activities:
Reinforcing the capacity of Health providers (hospitals and PHCC) in responding and managing emergencies.
Enhancing the capacities of the communities to respond to medical and psychosocial emergencies
Minimizing the impact of the Occupation on the psychosocial wellbeing of the Palestinian population.
Advocating for the right to health of Palestinians living under Occupation
Current Partners
Culture and Free-Thought Association (CFTA)
Palestinian counselling center (PCC)
Ministry of Health (MoH)
Ministry of Education and Higher Education (MoEHE)
Current Donors