Nada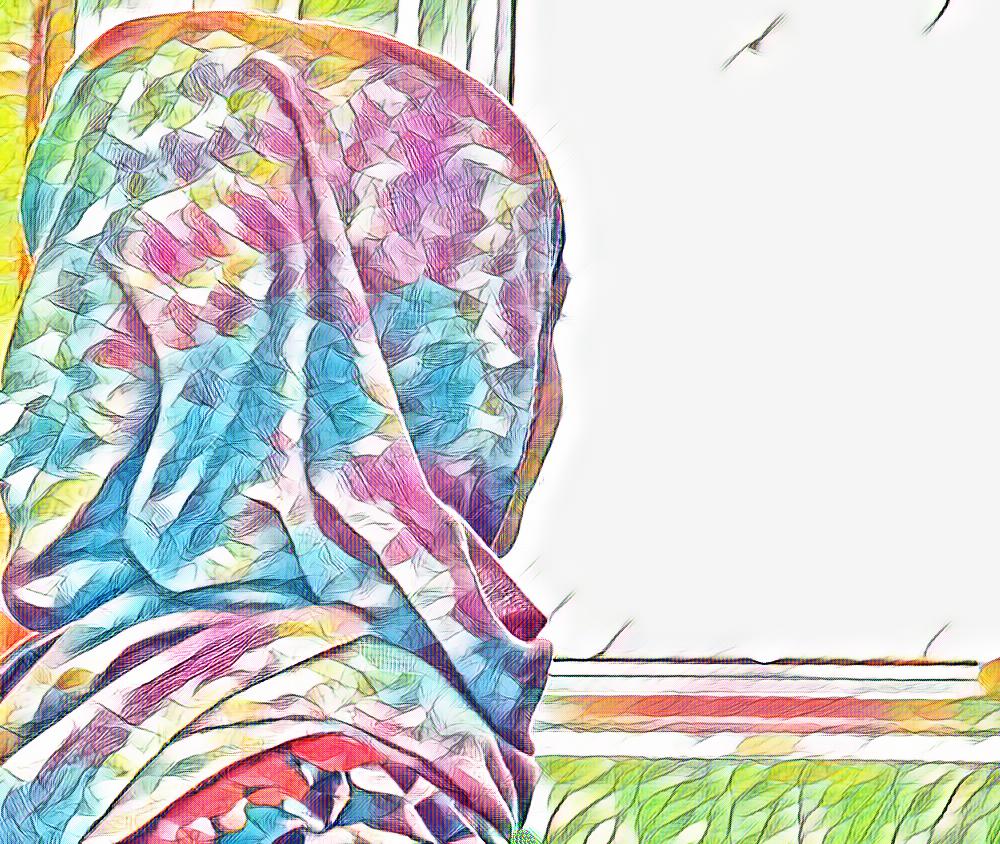 Nada was fond of orange blossom and green fields…
She dreamed to learn piano, she loved the way the music notes could speak to a person's soul… She believed in another version of reality, a reality far from the sound of war… far from the reality she had to crash in suddenly.
Nada is 25 years old, mother of two girls, and Syrian refugee in Lebanon since 2014 – the beginning of the Syrian Crisis. She comes from a village in Syria called Ghota described as the oasis, formed by the Barada River. Ghota, as she described to us, is "a village that you recall even if you are far away… recall the smell of the earth and the beauty of its blue sky."
In 2015, she had to move to Damascus. Her nightmare started then, as she told us. She had to escape to Lebanon because her husband was abducted. The last thing she heard from him was to prepare food and hot water. They took him from the house, leaving her traumatized with two little girls, the three years old Sham and the one year old Wajd. In a matter of seconds, she became the only source of shelter and protection for her girls.
Her husband's family who had to escape to Lebanon asked her to live with them. She followed them with her two little girls to Masnaa village in Bekaa valley, at night. She had to leave her parents behind, respecting the traditions… Her fear from the dark started to develop stronger. From the deadly war she moved to a cold war, a mental war with herself. A war that does not leave apparent bruises behind.
During her first year in Lebanon, she felt that there was no tomorrow. She felt as if she was still stuck while the rest of the world continued moving. Drowning in loneliness, facing continuous harassments, feeling unworthy with her daughters, and losing any hope of return, she tried to kill herself many times. She wanted to have control at least over something in this shaking reality. She only had control over stopping her life. But all attempts failed…
In 2015, during a home visit, she was referred to one of MdM's case managers, Fatima. At first, she refused to talk, but day after day she started to open up to Fatima. She felt that she can at least talk to someone, someone cared to listen, and that was enough. This is where Fatima discovered that her husband's family were mistreating her, and her landlord sexually harassed her… At noon, she and Fatima used to meet over a salad, they called it Fatima's Salad… Fatima then referred her to an MdM psychologist, Noelle, and they provided her with comprehensive support.
Our other case manager, Amani, helped her to get a job through another NGO and within a year she was able to take her girls and rent a two room house in Rashaya El Wadi. She faced her husband's family and took her daughters with her. The moment she started to confront, she started to live again. She even enrolled her daughters in school. One year later, she still recalls how she was able to breathe again. She never imagined that mental health mattered that much, having lost faith that someone can help her. She learned to cope with her surroundings, create something new from what she has… She told us: "When the war takes away all the colors, mental health support helps in bringing them back".
Now, she is still struggling with many challenges but she is more resilient and stronger. She wants to go back to Syria once the green fields are back. She plans to visit her parents, but she is afraid to see the colors of Syria now…