Muzian abu Znaid – The portrait of a life-long refugee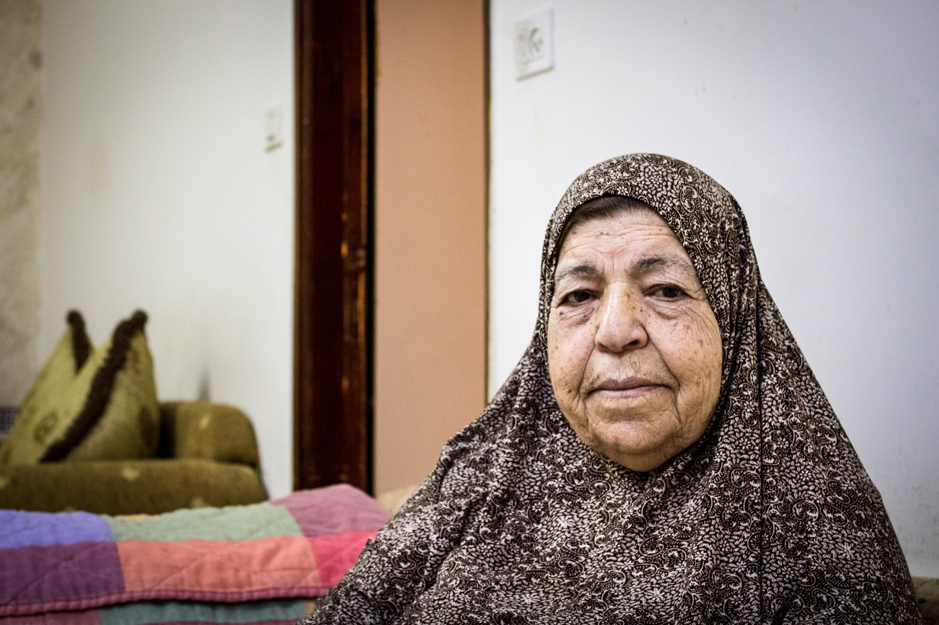 Muzian abu Znaid – The portrait of a life-long refugee
Born in Jerusalem, Muzian has always thought of herself as a refugee. She was married in 1955 in Duraa, South Hebron Hills and moved to Jerusalem to live in Mu'askar, a camp established for 1948 refugees in what today is the Jewish Quarter of the Old City. There, she had eight children, but only five survived.
Due to the degrading conditions in this camp, the authorities managing the camp were promoting the displacement to a new camp, Shu'fat. While most of the people from Mu'askar were moved between 1965 and 1966, Muzian, her husband and five children stayed there. In July 1967, in the wake after the Six-Day War, together with her husband and her children were forced to move to Shu'fat, taking only what they could carry in their hands.
When they arrived to the camp, only few buildings had been constructed and surrounded by mountains of garbage, several tents were being installed every day. They were extremely poor. Despite the assistance given by the UN, their conditions were extremely harsh. Initially, the camp was expected to host about 500 families. The family of seven was put together with other six people in a room of 13X7 meters and had to share toilets with their neighbors.
They had lost it all. Yet, her husband, with little money borrowed from his family, established a small shop and her children, after going to school, worked at her brother's bakery in the old town. After settling down, she had another six children.
With time, the little small shop became a well-known minimarket and her husband built a bigger house, just across the street from the first small space. Her children grew up, started getting married and some were able to leave the country.
After 52 years of being a refugee, living in the narrow streets of Shu'fat, today Muzian can no longer walk, but is surrounded by her family. Half of her children still live with her in Shu'fat. Jihad Abu Znaid, one of her sons, is the director of MDM's local partner organization Woman's center.As the origin of three generations, Muzian has a total of 125 descendants. Despite some moving out, they are all registered as Palestinian refugees.
Today, based on UNRWA's figures, there are 1.5 million refugees distributed in 85 camps and the Shu'fat refugee camp hosts approximately 24,000 people, including 12,000 registered refugees. Despite having been illegally annexed, together with the rest of East Jerusalem, the Israeli authorities built a separation wall in 2003, cutting the camp residents off from the rest of Jerusalem.
Among other locations, MDM works in Shu'fat refugee camp providing protection and mental health and psychosocial support to ex-detainee children and young adults, as well as their families. Within a holistic approach, and in collaboration with local partners, the objective is to facilitate their reinsertion to school, improve family cohesion and raise awareness on detention and its consequences.