Médecins du Monde- France and Ministry of Health conduct a practical Medical Training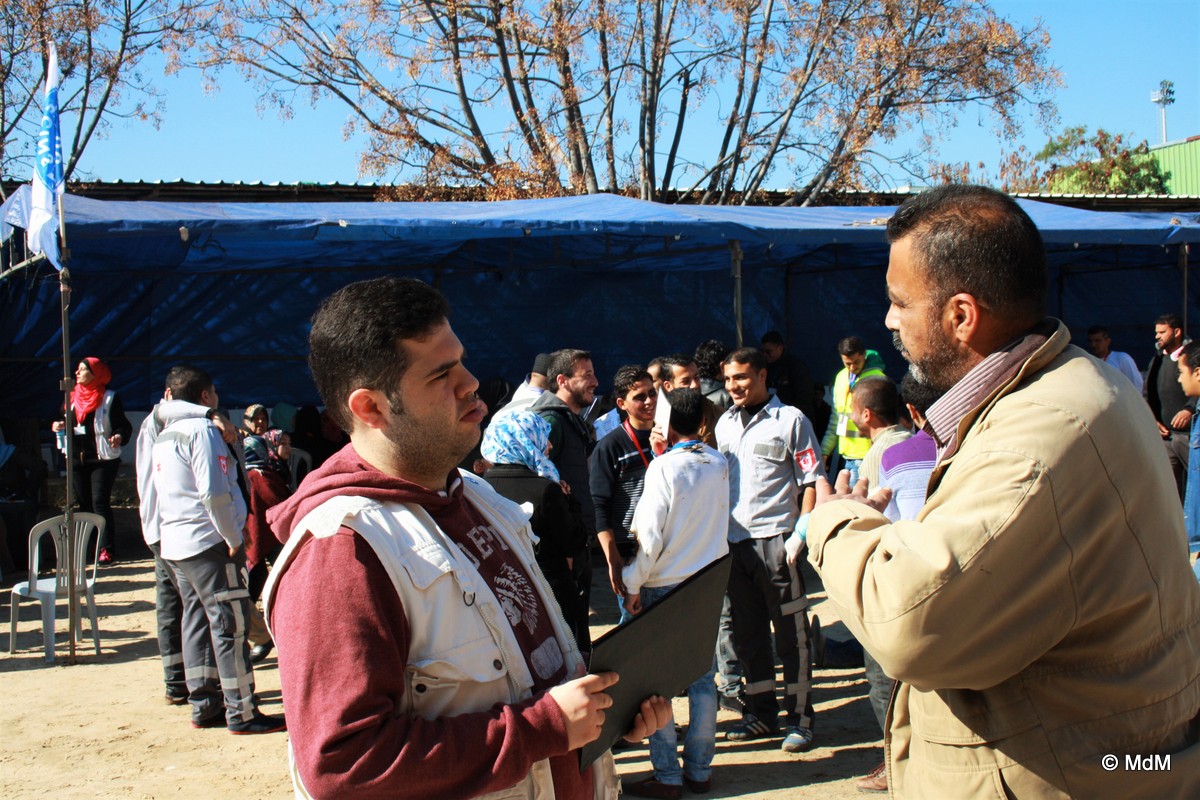 Gaza- On Tuesday, February 9th 2016, Médecins du Monde France (MdM), in collaboration with the Ministry of Health, conducted a practical medical training on emergency preparedness during crises at the Emergency Medical Services (EMS) center. This training included 40 causalities to be referred to four different clinics by 8 ambulances, the objective being to assess the quality of the triage of the cases on the field, the coordination of the ambulances, and the performance of the medical staff in the clinics.
This training is one of the activities under the "Emergency Preparedness Plan" Project implemented by MdM in Gaza and North Gaza governorates for almost a year. The project targets community members through Basic Life Support (BLS) training to farmers and fishermen, as well as medical staff in Primary Health Care (PHC) centers and Emergency Medical services (EMS) centers who were trained on emergency management and triage in situation of crisis.
Dr. Ahmed Abouteir – medical coordinator at MdM says, "The project aims to enable the community members to deal with causalities on the spot during emergencies and to provide the needed first aid till the arrival of the medical support." As for the cooperation with the Ministry of health, Abouteir explains: "We work together to improve the efficiency of EMS and PHC staff regarding quick response, triage management and evacuation of causalities. We also work on increasing the capacity of primary health care centers to receive urgent cases in order to decrease the pressure on hospitals in a context of crisis."
MdM has also distributed BLS kits to community members and provided essential drugs, disposals and communication devices to four primary health care centers and emergency medical services in Gaza and North Gaza governorates.
MdM has been present in the occupied Palestinian territories since 1995 and it has started working in the Gaza Strip since 2002. Today, it has three main programmes: Emergency Preparedness Programme, Mental Health Programme and Sexual and Reproductive Health Programme.