MdM and Amel Association launch a new mobile clinic in West Bekaa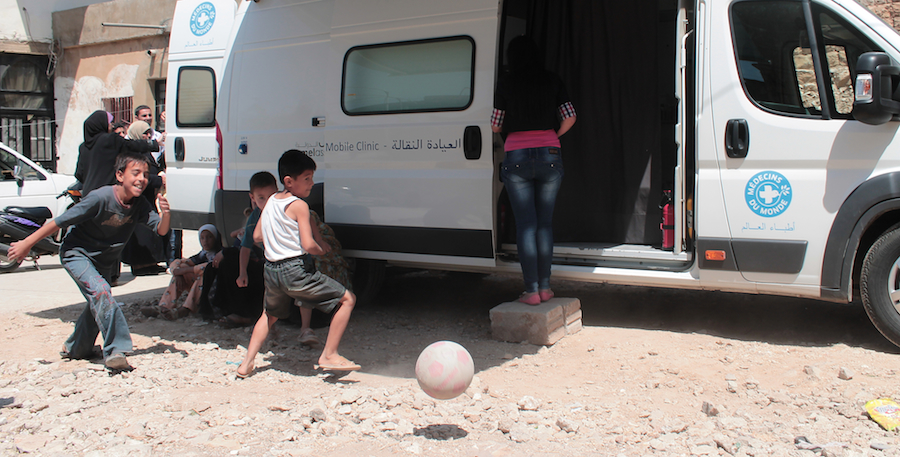 Since mid-August 2013, MdM and Amel Association manage a new mobile clinic operating in the West Bekaa, around the village of Kamed-el-Loz. The clinic is part of MdM and Amel Association's efforts to better cover the medical needs of Syrian refugees and vulnerable Lebanese living in the region.
Access to health in the Bekaa remains difficult due to the remoteness of some villages and tented settlements as well as the relatively high cost of medicines and medical consultations. The MdM/Amel mobile clinic aims to overcome these obstacles by directly providing free health care in ten isolated villages and tented settlements (Es Saouiri, Es Marsoua, Soultana Yacoub, Soultana Yacoub Tahta, Hamara, Mdakhe, El Bire, El Rafid, Khirbet Rouba, Dahr el-Ahmar).
The medical team of the mobile clinic is expected to treat 500 patients a month, therefore completing the work done at the Amel/MdM healthcare centre in Kamed-el-Loz which received 1 876 patients in July 2013.
'Today, I already received 22 patients and dozens more are waiting. A lot of people are suffering from chronic diseases. Apart from the number of patients, it takes time to explain to each person the treatment they have to follow and the medication they have to take, as they are not necessarily familiar with them' explains the doctor present in the mobile clinic.
More information on our programme in Lebanon…