Interview with Dr. Edmun Rabban, Médecins du Monde Health Program Coordinator – Dohuk (Iraq)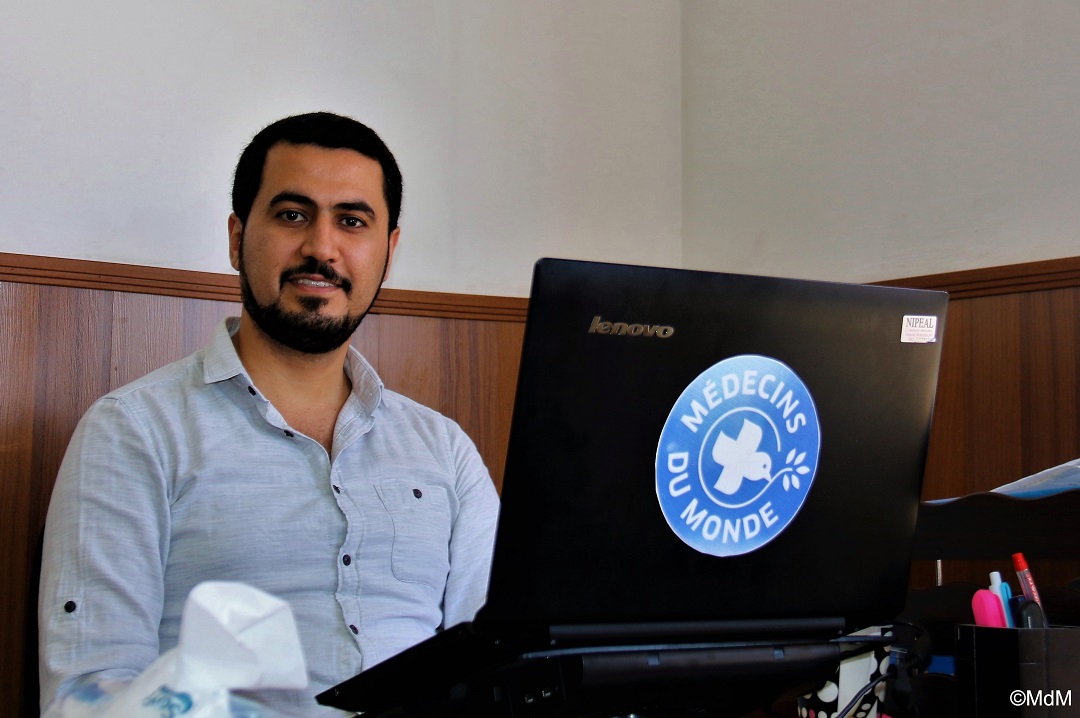 Dr. Edmun Rabban is a medical doctor who has been working with Médecins du Monde (MdM) since November 2014. He began as the Team Leader of MdM's first mobile clinic, and later took up the positions of Medical Supervisor in March 2015 and Medical Manager in August 2016. He is currently working as a Health Program Coordinator since November 2017.
What did the picture look like when you first started working with MdM?
The set-up was completely different back then compared with today, as we were in a context of emergency then. We started off with mobile clinics and worked in tents with Internally Displaced Persons (IDPs). At that time, most of the IDPs were Yezidis who were fleeing persecution from the Islamic State (ISIS).
Our two main priorities back then were: 1) facing the emergency at hand 2) controlling the health situation. Moreover, the majority of IDPs had not received any aide, including healthcare, for a long time and that made the situation much more complicated. We were also faced with critical cases of malnutrition, which we referred to secondary healthcare facilities – hospitals.
Since the beginning, our main goal was thus to ensure access to healthcare services. Another important part of our work was to coordinate our activities with other Non-Governmental Organizations (NGOs) and the local Directorate of Health (DoH) – under the Ministry of Health.
What activities / programs did MdM put in place to respond to the crises at hand?
MdM basically went where the needs were, that is to say in Al Amedi district, in IDP camps, and in villages where IDPs sought refuge. The Chamesku IDP camp was established in 2014 and MdM began to provide Primary Health Care (PHC) services within the camp from December 2014 onwards. Chamesku Camp is the largest IDP camp in Northern Iraq, which provides refuge for over 27 000 displaced persons. It is mostly inhabited by the Yezidi community (95%), who have been particularly targeted by ISIS.
MdM has always prioritized working in close cooperation with the DoH of Dohuk in ensuring access to healthcare for IDPs in Chamesku camp, and continues to do so today. Services provided includes primary healthcare, sexual and reproductive health, and mental health and psychological support.
At the outset, MdM worked mainly in IDP camps, but afterwards began supporting PHC centers in the governorates of Dohuk and Ninewa. Today, MdM works to provide healthcare facilities with essential drugs and medical supplies, but also covers their operational costs. Support activities further includes capacity building and on-the-job training of local (DoH) medical staff, with the objective of accompanying the DoH in the recovery of the healthcare system.
Today, the health situation is somewhat under control, as we are no longer in an emergency phase. As such, we [MdM] are seeking to develop sustainable activities. For example, we recently requested and obtained a card from the DoH which enables beneficiaries to benefit free of charge from treatments if they suffer from a chronic disease.
What are the challenges ahead?
The top current and forthcoming priority is mental health (MH). The large-scale displacement experienced by many has caused significant psychological and social stress on families and communities, affecting their mental and psychological wellbeing. Additionally, many people have been living in camps for years, in precarious conditions, very far away from their homes. This has only increased their vulnerability, making them more likely to develop mental problems. Moreover, the informal community networks that often regulate community wellbeing were disrupted. For many, this has led to the development of social and psychological problems, while exacerbating existing problems, thereby increasing their vulnerability.
MH workers have witnessed severe cases of depression and bedwetting, among others, but they have also been lucky to see remarkable changes. I remember the drawings of the children at the beginning; they were very violent – depicting blood, weapons, fighting and ISIS members. Within one year, the drawings had greatly changed, as the children started to draw suns, gardens and animals. For me, this is proof that there is hope and so we must continue our efforts. It is very important to advocate for MH inclusion within the healthcare system. It is about changing laws and practices in order to ensure sustainable development in mental healthcare.
Nonetheless, the needs remain great. In Iraq, the mental health policy is very weak. Mental health exists on paper but not in healthcare facilities. University curriculums are psychiatry-based and do not focus on psychology. The shortage in human resources is a real problem and does not allow to meet the needs. The Ministry of Health does not have the necessary resources. They are willing to do more, they believe in it, but they do not have the capacity. It will take some time. I strongly believe that we should focus on children, while developing other activities for adults, such as social support activities and counselling.
Another priority should be gender-based violence (GBV). The main focus of the DoH in terms of GBV has been on responding to the needs of ISIS survivors, while forgetting about other types of GBV in camps, such as domestic violence which is recurrent but hidden most of the time. It is therefore important to raise awareness on GBV and incite survivors and communities to be more comfortable talking about the issue. Building capacity is also important. MdM recently conducted a workshop to explore the current needs and possibilities of capacity building.
Last but not least, SRH is another main priority. To alleviate the workload of doctors, there is need to increase the capacity of SRH nurses and receive recognition from the DoH. A special focus should be put on family planning, which is greatly lacking among IDPs and host communities.