Humanitarian and human rights agencies urge governments to resettle 5% of refugees from Syria by end 2015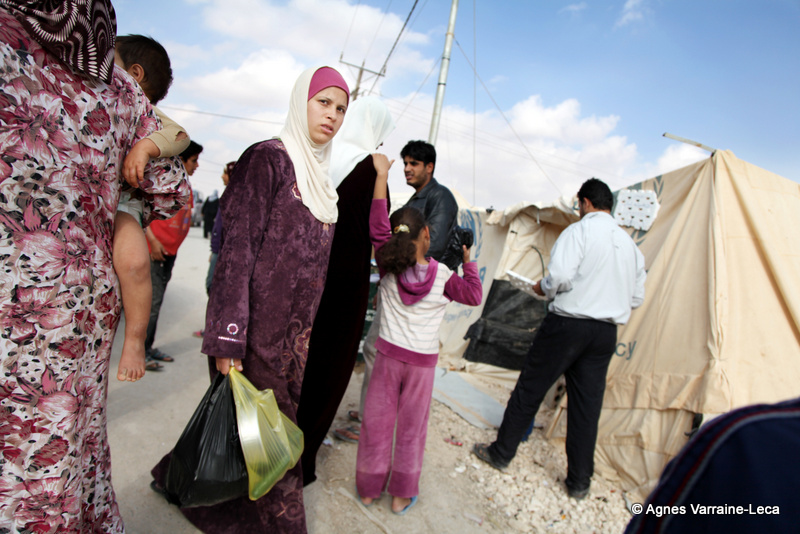 Over 30 international organisations are calling on governments meeting in Geneva tomorrow to commit to offering sanctuary to at least the most vulnerable 5 per cent of refugees from Syria currently in neighbouring countries – 180,000 people – by the end of 2015.
The governments convened by the United Nations High Commissioner for Refugees (UNHCR) will be making pledges to resettle or provide other forms of humanitarian admission to refugees from Syria. Up to 3.59 million people are projected to have fled the conflict into countries neighbouring Syria by the end of this year. To date the international community has pledged to resettle less than 2 per cent of this number over an unclear timeframe.
Syria's neighbouring countries have shown incredible generosity over the last three and a half years, but the strain of the crisis is weighing heavily on infrastructure and public services. Turkey and Lebanon each host more than 1 million registered refugees. One in every four residents in Lebanon is a refugee from Syria. Jordan hosts more than 618,000 and Iraq hosts 225,000 (on top of millions of internally displaced Iraqis). With diminishing resources, refugees and host communities are paying the price, as well as those still trying to flee the conflict in Syria as neighbouring countries restrict and effectively close their borders.
"The situation for the most vulnerable refugees from Syria is becoming increasingly desperate. Some – including sick children, who without treatment, could die – are simply unable to survive in the region. Providing humanitarian aid alone is no longer an option: it's time for wealthy governments to step up and extend a lifeline to 5 per cent of the refugee population by the end of 2015," said Justin Forsyth, CEO of Save the Children.
"This is one of the worst refugee crises since World War II, displacing millions of civilians, mostly women and children," said Mark Goldring, Executive Director of Oxfam GB. "We're counting on governments in Geneva to move quickly to demonstrate the kind of international solidarity that is desperately needed to transform the lives of the most vulnerable refugees."
While 5 per cent is only a small fraction of the total number of refugees, it would mean the hope of a better future and safety for at least 180,000 people by the end of next year, including survivors of torture, those with significant medical needs, children and women at risk – as identified by the UN refugee agency. Accepting the most vulnerable cases for resettlement or humanitarian admission also relieves Syria's neighbouring countries from the short term costs of treating, supporting or protecting them.
"With the collapse in the international solidarity, Syria's neighbours are now increasing their border restrictions. Desperate Syrian civilians are unable to escape the war. Wealthy countries need to scale up their resettlement pledges and at the same time increase the support to the region so that borders are kept open," said Secretary General of the Norwegian Refugee Council Jan Egeland.
"Just because we happen to share no border with Syria, this does not free any of us from responsibility".
The coalition of NGOs are also calling on states that have not traditionally participated in refugee resettlement, such as countries in the Gulf and Latin America, to join other states by pledging resettlement and humanitarian admission places. Beyond this, governments can also do much more through innovative ways to help refugees from Syria in 2015, such as through making available work permits and university places, while offering them full protections in line with the 1951 Refugee Convention.
For more information and interviews please contact:
Jordan: Karl Schembri, Regional Media Manager, Save the Children, karl.schembri@savethechildren.org, +962 (0) 7902 20159
Lebanon: Joelle Bassoul, Syria Response Media Advisor, Oxfam, jbassoul@oxfam.org.uk, +961-71525218
US: Oliver Money, Media Relations, International Rescue Committee, oliver.money@rescue.org,
+1-646 318 7307
UK: Sara Hashash, MENA Press Officer, Amnesty International, Sara.hashash@amnesty.org, + 44 (0) 20 7413 5511
ABAAD (Lebanon)
ACTED
ACTIONAID
ACTION CONTRE LA FAIM
AMEL (Lebanon)
AMNESTY INTERNATIONAL
ASSOCIATION EUROPÉENNE POUR LA DÉFENSE DES DROITS DE L'HOMME
BRITISH REFUGEE COUNCIL
CARE INTERNATIONAL
CARITAS
CENTRE FOR REFUGEE SOLIDARITY
CHILDRENPLUS
DANISH REFUGEE COUNCIL
EURO MEDITERRANEAN HUMAN RIGHTS NETWORK
EUROPEAN COUNCIL ON REFUGEES AND EXILES
FRONTIERS RUWAD ASSOCIATION (Lebanon)
HANDICAP INTERNATIONAL
HUMAN RIGHTS ASSOCIATION (Turkey)
THE INTERNATIONAL RESCUE COMMITTEE
ISLAMIC RELIEF
JREDS (Jordan)
LEBANESE CENTRE FOR HUMAN RIGHTS
LIGUE DES DROITS DE L'HOMME
MEDECINS DU MONDE
MEDAIR
MUSLIM AID
NORWEGIAN REFUGEE COUNCIL
OXFAM
PREMIERE URGENCE- AIDE MEDICALE INTERNATIONALE
SAVE THE CHILDREN
SAWA FOR DEVELOPMENT AND AID (Lebanon)
SYRIA INGO REGIONAL FORUM
UN PONTE PER