Healing with humanity: What more can we do ?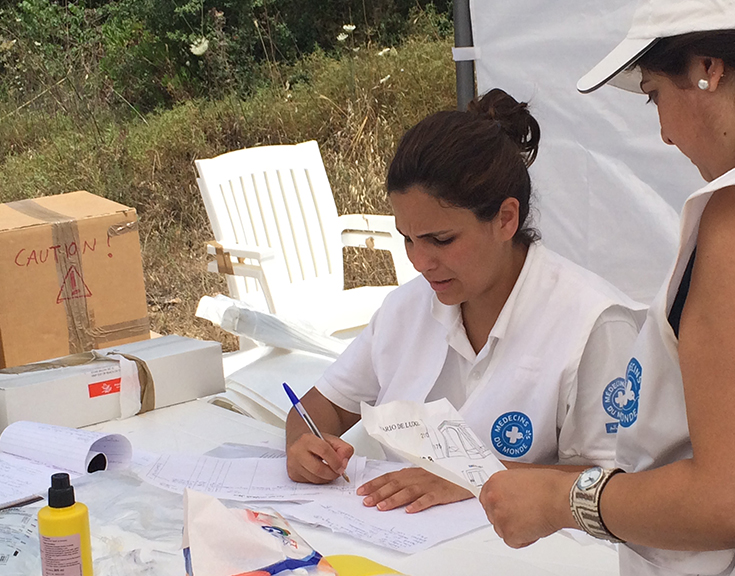 Interview Aline Keyrouz, a 28-year-old Lebanese nurse, talks about her work for Doctors of the World/Médecins du Monde (MdM)
Ever since her childhood, Aline Keyrouz has wanted to be a nurse like her mother. Concerned for others, she wanted to heal children in Africa. Her dream became partially true when she graduated from the faculty of Nursing Sciences at Université St-Joseph, Lebanon, in 2006. She never made it to Africa, but is now committed to helping Syrian refugees and most vulnerable families in Lebanon through her work at MdM in the Emergency Response Unit[1].
Based on your previous experiences, what is different about MdM?
The humanity. I am not just a nurse healing people; I am also a human being interacting with others. At MdM, we put people at the centre. It offers me the possibility to explore other aspects of nursing including the psychological side of things. Patients I care for come along with emotional stories. You must be patient, listen to them, reassure them and not panic. Where I previously worked I didn't have time to spend listening to patients as the focus was only on medical care.
What are the challenges you face in your work?
Remaining neutral. I live in a country where people cannot be neutral because they are raised with different political and religious views. These differences are so strong it affects all aspects of life in Lebanon. Through my work with MdM, I am learning to be more tolerant: people should be helped regardless of differences.
I am also learning to stay optimistic while working with Syrian refugees on a daily basis. I try not to be affected by the situation around me and to keep thinking positively.
What keeps you going?
"What more can we do?" This is the question that keeps me going. Each life is unique. When I know that I can make a difference in someone's life, I get the power to carry on no matter the difficulties.
If you had to choose an experience from the field that really affected you, what would it be?
In November 2013, I went through an experience that really touched me. We were in Arsal where 20,000 Syrians sought refuge[i]. The situation was shocking and I felt powerless. Can you imagine this huge number of people coming from everywhere? Children were crying, it was chaos. What could we do? It was so frustrating, all the more so because we had limited resources. This experience made me think of the civil war in Lebanon (1975-1990) even though I didn't live it. This must have been just how it was back then. It astonished me and I wondered how my parents survived it.
---
[1] The Emergency Response Unit is a medical team composed of a doctor, a nurse and a social worker whose task is to conduct awareness sessions on health and intervene in emergency situation (influx of refugees, diseases outbreaks, etc.) in Lebanon.
---
[i] Arsal is a Lebanese town located in the North of the Bekaa valley, close to the border with Syria.