Idlib – Syria: Médecins du Monde – Doctors of the World Warns of Escalation in Attacks on Health Facilities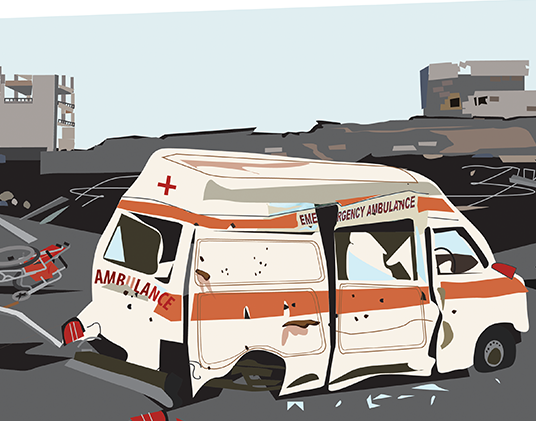 Idlib – Syria: Médecins du Monde – Doctors of the World Warns of Escalation in Attacks on Health Facilities
Paris and Istanbul, 16 May 2019 – Since 28 April, the violence in Idlib province in northwest Syria has intensified. The civilian population continues to bear the brunt of persistent attacks that have forced more than 180,000 people to flee to the north of the country.
Targeted attacks on health workers and health facilities
Over the past eight years, the various parties to the conflict have regularly targeted health facilities and workers – 102 were killed in 2018 alone. Meanwhile, the humanitarian crisis deepens in Syria.
Médecins du Monde – Doctors of the World fears this escalation in targeted attacks on health facilities and civilians initiated in Idlib province on 28 April will trigger a dire humanitarian crisis in the region:
15 health facilities and hospitals have been either partially or totally destroyed in targeted attacks.
By targeting these facilities, those involved in the conflict are denying civilians access to basic and essential services. The impact of these attacks on the provision of healthcare and drugs is catastrophic, particularly for the treatment of serious and chronic diseases and follow-up of pregnant women.
Liable to attack, health facilities are stretched to the limit, with staff working under considerable pressure to cope with the high number of displaced and wounded people.
"Given that the worst is yet to come, the international community must be unequivocal in its response. After eight years of uninterrupted conflict, the civilian population feels increasingly abandoned and people are at the end of their tether. Health facilities and NGOs providing assistance on the ground have neither the resources nor the capacity to respond to such huge influxes of displaced and wounded civilians," deplores Hakan Bilgin, President of Médecins du Monde Turkey.
Civilians caught in the crossfire in Idlib
For the past eight years, civilians have been the principal victims of the conflict. And once again, in the densely populated province of Idlib where three million people live – 1.3 million of them already internally displaced by previous military offensives – it is civilians who are paying the heaviest price.
"This new wave of attacks may force the displaced to flee all over again. Idlib was the only place in Syria where they could find refuge, and we're worried there's nowhere left for them to go. The fighting has backed them into a corner and they're trapped. With each passing day, Syria becomes a forgotten crisis," decries Dr Philippe de Botton, President of Médecins du Monde France."
Médecins du Monde – Doctors of the World urges the international community to take bold and immediate action to ensure respect for international humanitarian law and respond to an unprecedented humanitarian and health emergency. As the crisis deepens, withdrawing humanitarian and financial aid in the short or medium-term cannot be an option.
Press contact:
Insaf Rezagui: insaf.rezagui@medecinsdumonde.net
00 33 (0)1 44 92 14 86 – 00 33 (0)6 09 17 35 59